While working with an Epicor customer in installing a custom Cost Reporting solution developed by iAutomate using BackOffice, Explorer, SQL 2008, SQL Reporting Services (SSRS), and SQL Integration Service (SSIS), and SharePoint Server, and a custom C# application, we ran into an issue that cost us a couple days.
The issue came when we tried to launch our custom reports from SharePoint (SSRS was installed as SharePoint Integration mode).  We would get the following system error:

"no connection could be made because the target machine actively refused it 443"
SSRS was not configured to use any SSL port and we definitely knew it was security related.  The windows event log pointed us into this direction.  The AD user assigned to the services, application pool, and databases was all good.  We tried many variations and still no success.
After a day of trying new things (everything), searching on Microsoft Sites, Forums and blogs, we could not find a solution.  I left the client having to contact Microsoft for assistance.  After a little over 4 hours on hold, Microsoft was able to assist by going through a series of checks.
All it took was the change of one setting.  In the rsreportserver.config file there is a key titled "SecureConnectionLevel". The following is from MSDN:
Specifies the degree to which Web service calls must us Secure Sockets Layer (SSL). This setting is used for both the Report Server Web service and Report Manager. This value is set when you configure a URL to use HTTP or HTTPS in the Reporting Services Configuration tool. Valid values range from 0 through 3, where 0 is least secure.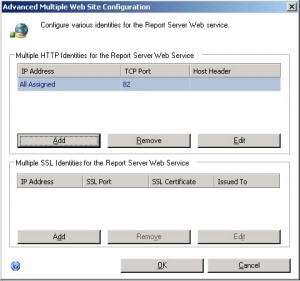 The value we had was set to "2".  When we changed it to "0" the system message went away. When we look at the Configuration Manager we do not have anything set for SSL.
So what happened?  We are not sure.  It is possible that the SSL setting was provided during initial install but when removed the setting remained.
It only takes one setting to cause so much grief!  The good news, we are up and running.
Thanks Microsoft.
Tags: SharePoint, SQL Reporting Service, SSRS